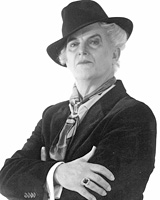 MR. WATSON & MR. CRISP!

In conjunction with New Zealand's
Hero Festival
, Auckland's annual gay pride celebration, actor John Watson brings Quentin Crisp back to the stage in a new production of
Resident Alien
at the
TAPAC Theatre
(The Auckland Performing Arts Centre).
Mr. Watson, 59, has a long acting history in New Zealand. And as far back as 1972, he has worked with various theatre companies, such as the New Zealand Players Drama Quartet, Theatre Corporate, the Mercury, Court Theatre and Centrepoint. He has also been involved in a substantial amount of radio and television work. Mr. Watson teaches English as a second language.
Resident Alien
marks Mr. Watson's first time on the stage in 15 years.
Jay Bennie writes, "This is a gentler, more affable Crisp than we are used to seeing, with less of the archness and drollery, and barely a hint of the venom and self-loathing which make the surviving documentary footage and the classic John Hurt performance in
The Naked Civil Servant
so compelling." Read more at
GayNZ.
Linda Herrick writes, "Auckland actor John Watson discovered
Resident Alien
by accident in mid-2006 while digging through the drama section of Auckland Central Library. . . . He took it home, laughed a lot (and cried a little), and decided to try and stage the play here." Read more at
The New Zealand Herald
.
Shannon Huse writes, "Actor John Watson obviously has a great love and affection for Crisp and works hard to create a faithful tribute to his hero. . . . Watson reveals the vulnerability, cynicism and grumpiness that also made the man." Read more at
The New Zealand Herald.