Early in year 2000, a Victorian-style overcoat was a favorite design of the season. Designed by Miguel Adrover, a designer whose collections always elicit mixed reactions, the unique coat catapulted him to the top of the fashion world. Mr. Adrover's collection in 2000 was made up of borrowed classics from past designers, which he then turned into works of art via deconstruction and reconstruction. He flipped Burberry macs inside out. He took a Louis Vuitton bag and made it into a miniskirt. And then he transformed Quentin Crisp's mattress into an overcoat.
This particular coat was made from Quentin Crisp's discarded mattress I had rolled up and tied with extension cords, securing it to roll down the stairway of his rooming house and out onto the sidewalk for garbage collection during the night. But that did not happen. I noticed after dinner, returning to check the tidiness of the trash heap, the mattress had disappeared. In less than an hour!
Wonderment took over the night, but wonderment had taken over the previous two months while deconstructing Quentin Crisp's room and packing it away into boxes for storage. Quentin was right about the dust. Never touch it; especially after how many years you have neglected it! It had taken my partner Charles Barron and me two whole months to empty out and wipe clean Mr. Crisp's small room because the dust was so great!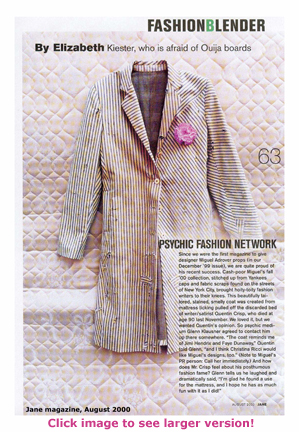 The night of discarding Quentin's mattress was significant. It was the last night preparing Quentin's room for the movers to carry away his boxed-up room to storage, and then to hand over his keys to the landlord. Wonderment, though, returned a couple weeks later in February during Fashion Week in New York City. The mystery of the missing mattress had been solved. It had made the media circuit, not for being MIA but for morphing into Miguel Adrover's now famous mattress overcoat.
Demonstrated at his runway show and in the craftiness and unique originality, Mr. Adrover wanted to show the paradox of different classes of people mixing on the sidewalks of New York City, where one finds middle-class, homeless, and upper-class people in the same space at the same time, all the time.
"That was also part of my theme of portraying the streets of New York. Quentin was my neighbor for nine years and I would see him every day eating eggs at that same diner. I always said hi to him but we never talked. It was that kind of feeling you have with people you see all the time—you know them, but you don't need to talk to them. He was my neighbor, about four doors down from me. I used to see him all the time.
"I was sorry to hear Quentin passed away, and I miss seeing him. But one day about two weeks after he died, I was walking home and there was a mattress on the street, and someone told me it was his mattress. So I dragged it into my hallway and started cutting it up, and it gave me and all my friends this terrible rash because it was so old and dirty. And then it became the coat that I used on the runway. I think he would have been very proud to have seen his mattress end up like that.
"At the time the homeless had no ticking, Giuliani kicked it out of the shelters. Like England kicked out Quentin Crisp for the way he was; but I [heart] NY gave him a mattress. A mattress like the one I am now consulting (over) and writing from, remembering . . . a f[—]ing freezing night on Third Street between First and Second Avenues covered by a thin layer of snow. He was lying down on the sidewalk, the bodiless mattress. But with a lot of knowledge, the knowledge of sharing someone's dream of freedom, something priceless, like the ticking fabric that I was lucky to rescue from conventionalism, trying to bring some light to the memory of my once neighbor.
"I was trying to show the downtown he represented. At the same time, I was trying to show how hard it can be for people who are sleeping in the street. I tried to make a nice, tailored suit with Quentin's mattress, as if somebody slept in it all his life. It was meant as an honor. There was nothing macabre about it. Quentin was elegant and chic."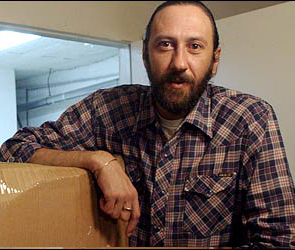 Mr. Adrover says, "I like giving a little bit of history to my clothes." And that he does because his now famous mattress overcoat is in the Metropolitan Museum's
Costume Institute
's permanent collection. The Met writes, "This design from Miguel Adrover's second collection was described by Cathy Horyn of The New York Times as "a simple but respectable Sunday-going-to-church outfit out of a Willa Cather story." Its faded, dusty colors and worn surface made Horyn's reference especially apt. However, the ensemble took on other evocative connotations—either macabre or poignant depending on one's point of view—when Adrover noted that the fabric was taken from the discarded mattress of the late Quentin Crisp. The designer's salvaging of this piece of urban detritus, with its forlorn history of wear and rusty stains, and transforming it into a tailored coat was less recycling than poetic reinvention."
Met Museum's info
reads: Miguel Adrover (American, born Spain, 1965). Coat and Skirt Ensemble with Vintage Fendi Scarf, fall/winter 2000–1. Coat: blue and white striped cotton twill mattress ticking; Skirt: beige and white striped cotton twill; Scarf: ivory silk with allover double interlocked "F" logo print, navy band trim, and burgundy tie-dyed pattern. The Metropolitan Museum of Art, New York, Gift of Miguel Adrover, 2005 (2005.44.1a–c).