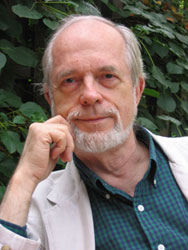 I live on East Fourth Street, just off the Bowery. So it wasn't surprising that I saw the slightly stooped figure of Quentin Crisp as he walked from his lodgings on East Third Street to his point of rendezvous, the Greek diner on Fifth Street and Second Avenue. I knew, from seeing Her Majesty's Civil Servant, that this had to be Quentin Crisp.

Well, I thought, he is probably very lonely, being an old man. I checked the phone book and found his name and address. I wrote him a letter asking if he would like to come to my place for dinner, adding that I would phone him in a day or so. Then, having posted it, I was seized with second thoughts. Belatedly I realized that, after all, Quentin Crisp was a celebrity, he probably wasn't lonely at all, and my letter, coming from a total stranger, was extremely presumptuous

Several days passed and I finally realized that, having written him, and saying I would call, I had an obligation at least to phone. Which I did. His fragile voice answered, and when I identified myself, he said, "I wondered when you were going to call". When I asked if he wanted to come to dinner he said, "Let me consult the sacred book." And then soon enough we had agreed on an evening.

Then panic seized me. My first instincts were generous and sincere—the elderly are often forgotten. But as I pondered the reality—that Quentin Crisp was actually very well known—I wondered if he would turn up. I was afraid to invite people to join me for dinner, certain that Mr. Crisp would not arrive. In the end, I turned to an old friend, Vicki Rovere, and she and I welcomed Mr. Crisp to my fourth floor walkup.

The dinner went well, but the conversation, of course, was the important thing. As Vicki and I asked him questions, and listened to his responses, I finally said, "Mr. Crisp, you are really as radical as we are." He found this novel idea something of a shock—since politically, Quentin Crisp, essentially a middle-class Englishman, was in no usual sense of the word a radical.

But, of course, he was in the most profound sense a radical, however distant his views of politics were from mine. He had defied the entire English world simply by how he dressed. He had lived his life as an outcast until, on his arrival in Manhattan, he found himself free at last. He had insisted on being what he was, which was different from everyone else—a very radical act.

I saw Quentin frequently after that. We would see a movie every two or three weeks, and, at the invitation of Penny Arcade, I joined him to watch the first US performance of that great English comic and actor, Eddie Izzard. When he came for dinner or a party I always had two bottles of stout laid away for him—he never drank more than two, but never less.

In all the time I knew Quentin, I never heard him say a cruel word about others. His wit was genuine, his thoughts well worked out. There was, of course, the problem of getting over his habit of deferring to others. When I would ask what film he would like to see, he invariably would say, "I want to see what you want to see." With some firm prompting, I could usually get him to list his own personal first choices, and off we would go for an evening at the cinema.

He was a genuine trooper—when he was doing his show on Broadway he had, for part of it, a bad cold or possibly the flu. But it never occurred to him that, given his age, and a high fever, he ought to call in sick.

When his heart began to bother him, I arranged for him to see my doctor who, in turn, sent him to a heart specialist. But he was old and walking even short distances had become painful. Once, as I walked him back to his East Third Street lodgings, he paused, leaned against a fence, and said—not at all theatrically, "Oh God, how long do I have to go on. It hurts so much." That brief moment aside, he never dwelt on his pains.

When I learned of his death while on tour in England, I knew he would have been quite at ease with the end of a journey which had been so courageous and so fundamentally decent.