"I photograph every possible aspect of human life.
A famous movie director said an artist never looks away.
I never look away." ~ Martin Fishman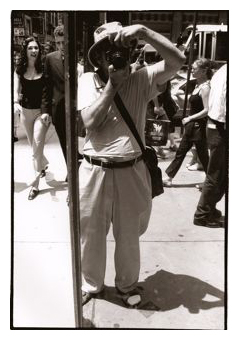 BIOGRAPHY
Martin Fishman's photography speaks loudly and with a gentle nod of respect, yet with an acknowledgement of what the harsh truth of a camera's lens can make of a subtle moment in time. Born in 1937 and raised on Pitt Street and then Brighton Beach, Fishman saw in youth how life would shape his eye's focus in years to come. Marty developed a passion for photography in high school and that passion remained with him for the rest of his life. After graduating from Baruch College, his first job was in a camera store where he learned the technical side of photography and met many photographers who tutored and inspired him.
For most of his working life, Martin Fishman was a caseworker and then a supervisor in various departments of the City of NY Dept of Social Services. "I just had a typical neurotic, unhealthy upbringing," Fishman said in an interview in the 1970s in reference to his surrealistic collages on display at Hansen Gallery. He photographed for half a century with such themes as poverty, portraits, pure abstractions, street festivals and surrealism. And for five years in the 1970s, he was director of Focus II Photo Gallery. Fishman became attracted by arresting images, using the camera to capture and transform New York City in a way difficult today. He remained an active and productive photographer until his death on February 3, 2010, assembling thousands of photographs taken on New York City streets.
His work transformed New York, becoming a poet of New York, in particular Brooklyn and the Lower East Side, capturing thousands of images of Coney Island; showing a true asphalt jungle filled with cats, dogs and snakes; human beings oblivious as they walk in front of gigantic ads selling sex; a man playing a musical instrument as he stares into a bird's eyes; a babyscaling the huge steps of a building as daunting as a pyramid, fountains frozen in time with water looking like glass sculpture. Fishman saw New York City as a living, breathing work of art, taking thousands of pictures of people with tattoos and piercings, gay men dressed as angels at the gay parade, playing with scale, showing huge figures dwarfing landmarks.
Martin Fishman's work has appeared in an array of local and international newspapers, magazines, periodicals, books, and Internet. His photographs appeared in the Manhattan Mirror, New York Times, Our Town, Time Out New York, Screw, and The Sun. And his images depicting New York City's nightlife were published in Japan's Blonde and Friday News magazines. His photographs appear in many books, such as Cross, Deviant Desires, Miss Vera's Finishing School For Boys Who Want To Be Girls, and in the memorial tribute book, An Evening for Quentin Crisp (March 2000).
Mr. Fishman exhibited at Ariel Meyerowitz Gallery, Art@Large, East Fourth Street Photo Gallery, The Emerging Collector, EV Gallery, Focus II Photo Gallery, Foto, Hansen Galleries, The Leslie/Lohman Gallery, Limelight Gallery, Pratt Institute, The Public Theatre, Synchronicity Art Gallery, Rafaella on Ninth, and Caffe Rafaella. His photographs are in many private collections and museums.
Fishman's photographs have appeared in exhibits presented by Phillip Ward and Crisperanto: The Quentin Crisp Archives: Quentin Crisp: London & New York; Quentin Crisp: Portraits of a Legend; Quentin Crisp: The Naked Bon Vivant; Of Quentin Crisp: Photographs from the Quentin Crisp Archives; Martin Fishman: Faces of Wigstock; and Martin Fishman: Pride On Christopher Street.
To view additional photographs by Martin Fishman, please visit wdydwyd?